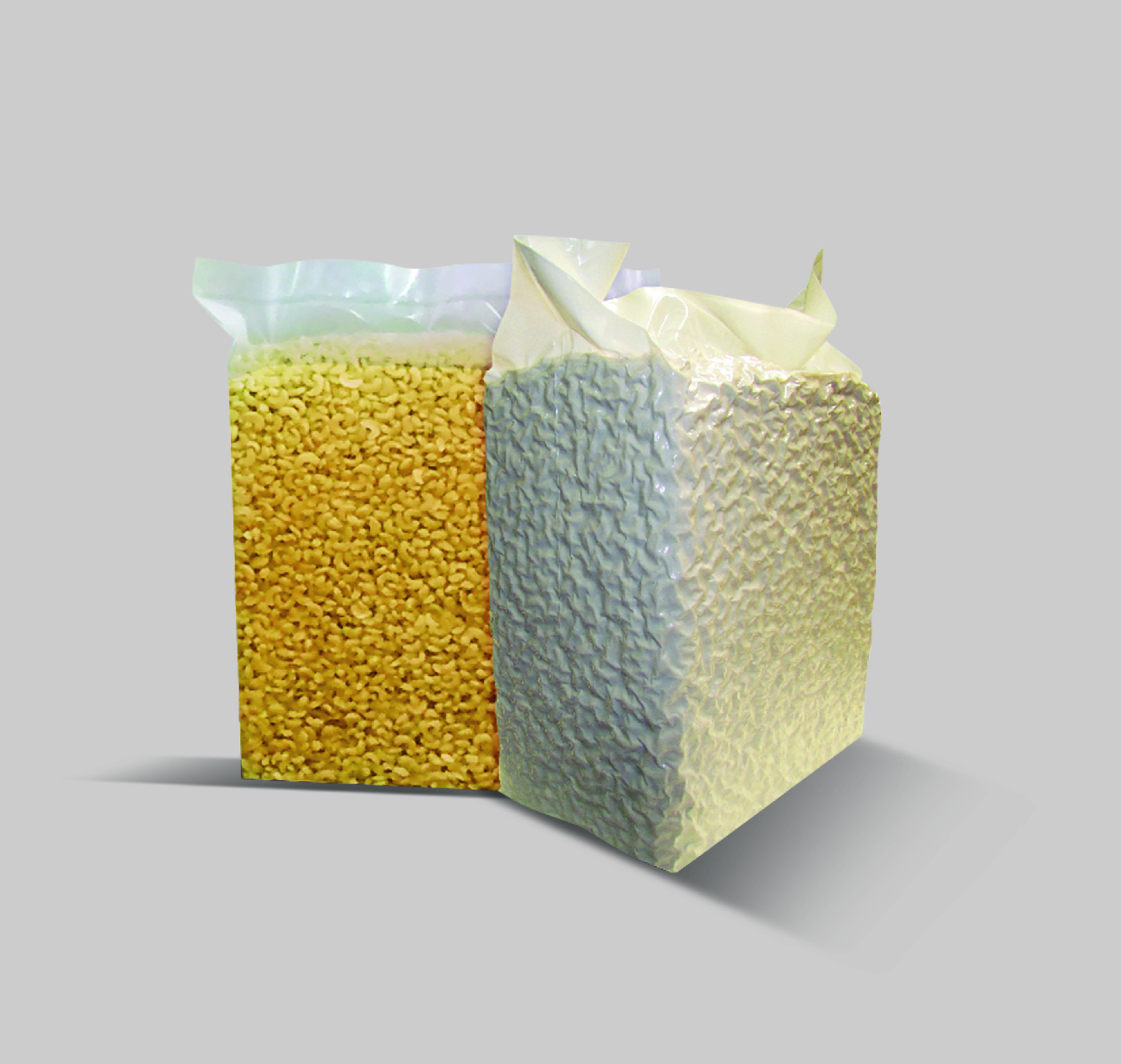 Innovations in Cashew Packaging
Packaging plays a significant role in the product life cycle. How does a good packaging is best described?; what does it stand for ? ; - the popular 3 P concept of packaging – Protection, Preservation & Presentation serves the best answer even today - though, modern packaging poses more challenges of logistics & supply chain management.
Cashew - world's sweetest nut snack is best packaged by nature, the core is surrounded by double shells so as to protect it from exposure to the highly perishable environment before it is consumed. The rich protein content in the cashew kernel makes the nut a highly perishable food, becomes non consumable if it is kept open without proper packaging for some time. The challenge becomes more significant as the nuts are processed in one part of the globe and transported to the other part where it finds better value and market. The nuts need to be protected against all odd climatic conditions of the high seas for a substantially long shipping time.
Vacuum packaging / Modified Atmosphere Packaging is considered to be the best & natural way of enhancing the keeping quality of perishable food for a very long time, this is an inherited knowledge passed on to us through generations and enriched from time to time. Now, with the help of modern science, Vacuum / MAP equipment's are manufactured to meet the specific requirement of the industry. Mostly, cashew is shipped in bulk packets by the processors to intermediary buyers / processors world over. Modern export packing of cashews consisting of one single 50 lbs or 2 X 25 lbs vacuum packed / MAP flexi bag /s in paper carton. This has become a proven, time tested method for export packing of cashew kernels. Tin packaging ( 10 kgs ) is still being used for packing cashew in bulk for some export markets and in some particular markets within the country. Whereas Flexible vacuum / MAP packing has got considerable advantage over tin packaging in terms of keeping quality and per unit packing cost ( the cost of flexible packaging is considerably lower against tin packing cost ).
Covid – 19 pandemic spread has influenced markets and buying preferences world over. Many processing establishments drive to establish strong domestic consumption to absorb stress of the volatile market conditions. This has propelled consumer packing – the up market quality branded is always packed in Vacuum / MAP packets in 100 gms – 1000 gms and the rest is branded / unbranded packed in laminated bags hermetically sealed using good sealing machines. Very few brands are using small sachet packing using fully automatic FFS machines – limited because of the volume constraints.
Food hygiene and contamination issues are more relevant in the post covid scenario. Processors are in search of machines & methods to ensure the nuts are handled hygienically during processing, post processing and packaging stages without contamination of foreign materials. Screening machines, material inspection conveyors, metal detectors, magnets, foreign particle separators, elevators, hoppers, feeders, dispensing systems etc. are also being employed in conjunction with the best packaging machines as an extension of the packaging system to produce the best quality nuts.
SEPACK INDIA PVT. LTD. , is one of the pioneers in packaging machinery manufacturing in INDIA with unmatched product quality and after sales service network anywhere in the country. We have more than 35 years of experience in packaging machinery manufacturing. We have strong legacy of among the first company to introduce vacuum packaging in the country.
We have been associating with cashew industry in country since long and was introducing industry specific products since the year 2004 continuously and consistently by the understanding made from continues interactions with the stake holders and converting them into products by our in house R&D team. We used to undertake custom projects for many prestigious export / processing houses. Currently our cashew post processing packaging machines are working in many cashew processing countries, other than INDIA.
It is worthwhile to understand the products used for post processing and packaging of cashew kernels as under.
Vertical Vacuum Packaging Machines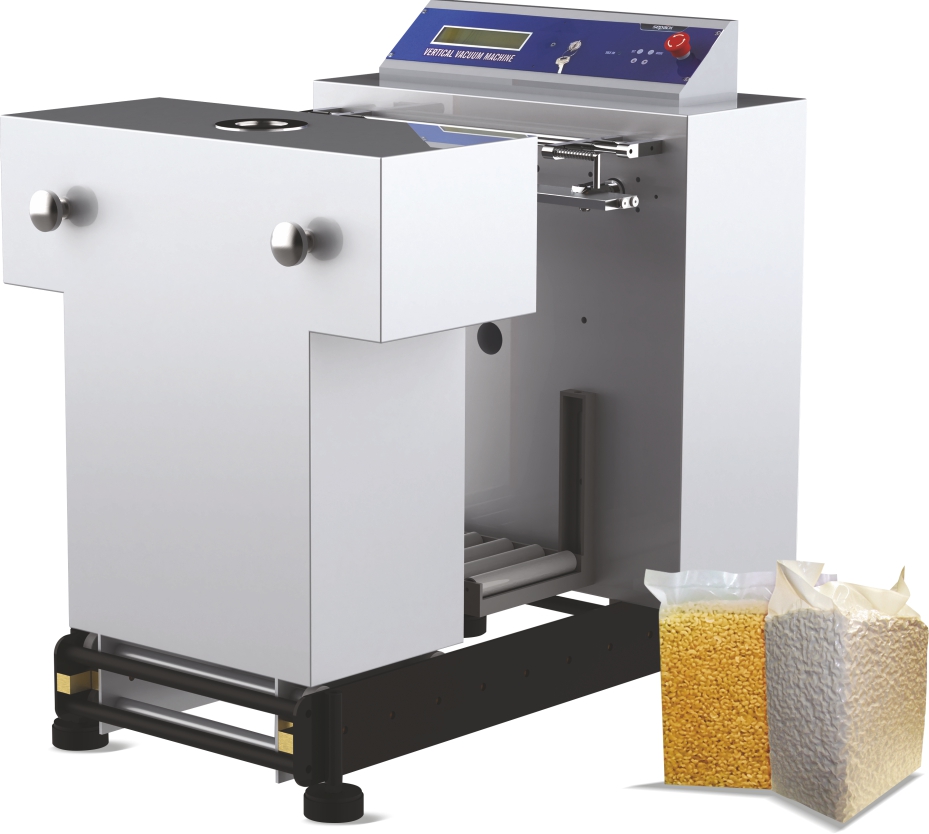 This is used for 50 lbs / 25 lbs / 10 kgs packing of cashew kernels. The machine is controlled by microprocessor and sensor controls for precise measure of vacuum & gas levels, sealing & Colling parameters. Uses the best in class BUSCH R5 series vacuum pumps. Ergonomically designed and built chamber, pneumatically activated sealing jaws for quality sealing. The equipment comes with an inbuilt feature of flushing upto 2 gases.
Vibro Screen
Vibro Screens are used for separating brackens and the powdered from the processed kernels, this will reduce the broken percentage to the tolerable limits and further them to useful grades, so that, the quality fetches the right value. The gentle gyratory movement of the screens separates the lower grade without causing an increase in broken percentage as compared with the conventional screening. These are available in 36 " dia & 48 ".
Cashew Inspection Conveyors
Inspection conveyors are employed for manual inspection and picking up of deformed, discoloured from the fine kernels. It comes with a proper lighting, roofing and equipped with VFD, PU / PVC food grade belt. Width of the belt is 600 mm and available in 2 lengths – 3 mtrs & 4 mtrs.
Online Metal Detectors
Usually online metal detectors are incorporated to the inspection conveyor so that metal contamination is detected and eliminated, while products are on the move. Standalone metal detectors are also used when there is no horizontal conveyors. Permanent magnetic plates are effective in separating ferrous contamination.
Hair & light particle remover
Lighter impurities like hair, pieces of testa , paper , dust and other lighter impurities might have contaminated with the kernels during processing. Hair & light particle remover is very effective in removing this contamination by employing an aspiration system. A combination of Vibro screen & Hair remover is being widely used in the industry as a separate cleaning line.
Elevators
Belt elevators with cleats and side walls are used for transferring kernels from a lower height to higher plane for further processing. Belt elevators are best suited for cashew kernels as this would reduce broken percentage comparing to bucket elevators.
Feeding / Dispensing system
Processors are using semi-automatic weighing and dispensing systems or a mechanised manual filling system for dispensing the set weights of kernels into the preformed bags kept under the feeding system. In the case of manual system, processors are keeping a digital balance inline are recheck the weight, whereas, semi-automatic systems dispenses the pre-set weight automatically.
Open Bulk Vacuum / MAP system
The volatile market situation prompted many processors to think about packaging / intermediary storage methods to keep the nuts in stock for longer periods to fetch good value during favourable market conditions. Open bulk vacuum / MAP systems are effective in such situations, where the vacuum levels are not critical.
Horizontal chamber type Vacuum machines – consumer packing
Horizontal chamber type high vacuum machines are used for packing premium brands of consumer cashew bags. Advantage – longer shelf stability and reduce stock returns from the market. Such machines are offered by "Sepack India Pvt. Ltd. ( www.sepack.in) " in various sizes and models to suit the customer's budget and requirement.
Consumer Packing – Continuous band sealers with /without gas flushing
Continues band sealing machines are perhaps the best suited for consumer packing in cashew industry, when considering the packing volumes and diversity of packet sizes. These are "best value for money" machines. These machines are available with and without gas filling option to meet the specific requirement of the industry
Automatic FFS machines
Automatic Form Fill Seal machines are best suited when the volumes are really high, which cannot be handled otherwise manually. Systems are comparatively expensive as the nut demands complex multi head combination weighing systems to meet weighment accuracy and speed. Currently very few processors meets these requirement, but, the scenario may change when the requirement arises in future. Machine manufactures are on the look for an intermediary solution to meet the current requirement.
Secondary Packaging
5 layer / 7 layer corrugated master carton boxes are used for the secondary packaging of export bulk vacuum packages. The paper joints are pasted instead of using staples – would damage the vacuum packed bag inside. 1 X 50 lbs or 2 X 25 lbs matrix is being used to fill the carton. The carton boxes are usually printed with company and brand information.
Carton sealing machines
The master cartons are sealed using BOPP printed trapes. This is being done using semi-automatic carton sealing machines – top & bottom sealing. These tapes also serves as a tamper evident sealing to prevent pilferage.
Carton strapping
Semi-Automatic carton strapping machines are used by processors for binding the cartons with PP / PE straps
Packaging industry in recent years has transformed radically in terms of materials, methods & machines to meet the ever changing customer preferences and aspirations. The cashew packaging has witnessed such transformation from tea chest packaging to modern vacuum packaging. This has made possible due to the induction of multi-layer packaging materials engineered from different combinations of materials to meet the specific demands of strength, transparency, barrier property, convenience etc. 5 layer / 7 layer PE co extruded film with Nylon / EVOH at the core layer is generally being used for vacuum packaging to meet the requirement.
Product labelling, check weighing etc. are considered to be an extension of packaging processors are started using coding / labellers , check weighing etc. Machine manufactures are working towards the automation of bulk packaging systems and viable automatic systems for automatic filling and sealing of consumer bags. Machine builders and processing companies' needs to work hand in hand to achieve this.